Can I use flipbooks to improve my sales? Digital marketers looking to improve the online sales are challenged to publish high-quality content. Search engines guidelines stipulate that content should be engaging and offer value to readers.
On Google's advice page for quality content, the search engine giant asks publishers to consider this question:
Would I do this if search engines didn't exist?"
If you apply this question to flip books, the answer would almost certainly be yes! Because not only do flipbooks make your content look quality, they attract readers and help you build an audience that converts.
Drive traffic to your website by sharing flipbooks
Digital flipbooks replicate marketing material you can produce in print form. Therefore they act as a stepping stone in your purchasing path and drive traffic towards the buy button.
But digital flipping books go several steps further than print editions are capable of. You can share flipbook catalogs, brochures and magazines etc on social media (Facebook, Youtube, etc.), email, on your own website and search engines thus reach a wider audience. Here is an example:
But because digital creations allow you to create as many copies of your marketing materials as you like for no extra cost, digital flipbooks are far less expense than it costs to produce the same marketing materials offline.
Promote your products in a variety of stunning visuals
Consumers are more receptive to online content that is visually engaging. Thanks to advanced graphic designs and high-definition screens, digital marketers have the tools to bring their products to life in full techni-colour.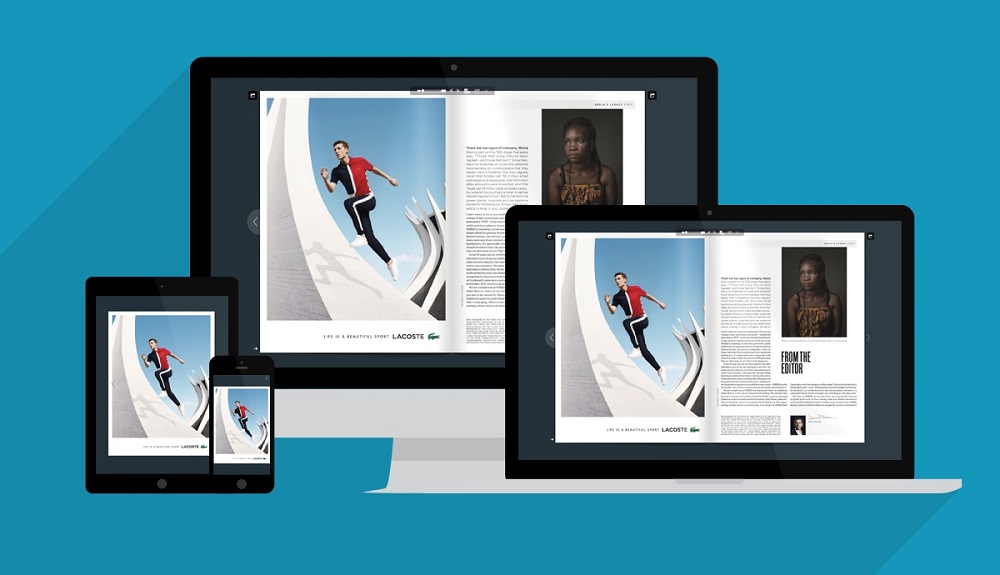 But again, flipbooks have the cutting edge over any other publishing platform currently available in the online sphere. Not only do digital flipbooks have the same glossy look and feel of high-quality laser printers, you can also embed a variety of multimedia files like music, videos and an animation into their pages.
Just like print, but better
Let's take a magazine format for example. They work in the same way as a print magazine, therefore you can dedicate an entire page to promote a product with eye-catching visuals and an advertising slogan.
The reader flips the page over like a real paper and can read an article about your product. Just as you find in a magazine article, the words are supported by engaging images that create a picture of your product in the mind of the prospect.
When the reader flips over to the next page, there is a video to watch. This video can either be the type of promotional ad you might watch on TV, a demonstration of your product describing the benefits of your products or customer testimonial interviews with your existing clients.
You could include two or more videos and provide different angles! The advertising options animated online books give you to increase sales are limitless. All you need to do is be creative.
Improve content by assessing analytics
Earlier flipbook software did not give marketers the option to assess the performance so it was impossible to know which content was engaging the audience and how long readers were spending in the flipbook.

Thanks to advancements in flipbook technology, it is possible to connect Google analytics to flip books so you can measure page views, the average time spent on a page, monitor clicks to see how readers are using your flipbook and more.
Performance analytics provide crucial information that help publishers improve marketing content and increase your chances of improving sales.
So not only are digital flippingbooks visually engaging to your audience, marketers have the opportunity to continue improving content that excites your customers.
Now you know why I love flipping books
To be successful online and increase sales, businesses need to be visible online and drive traffic to your website with engaging content.
You also need a well planned purchasing path that excites your audience and compels them to buy your products and services.
Digital flipbooks allow you to do all this and more. And as flipbook technology improves, this forward-thinking publishing platform promises to get even better at helping marketers improve sales.