Perfect memory for a perfect day – wedding flipbook
Weddings are momentous occasions. For most people they only happen once in a life time – at least that's what you hope as a newly-wed!
To keep the events of the grand day long in the memory, why not create a visual record of the day in a high-definition digital wedding flipbook. They are surprisingly easy to create and share on social media.
And with the advancements of digital technology, practically everybody is carrying a camera and a video recorder round in their pocket so you will not be short of contributions!
Smartphones have the capabilities to make everyone a budding photographer and video maker. So wouldn't it be great if you could collect the best pictures from the phones of your friends and put it together in one amazing visual document that you can share with everyone?
It is possible you know. In fact, it is very doable. Digital flipbooks enable you to publish multimedia files in an easy-to-use publishing platform. The results are visually stunning – the equivalent of a print magazine.
How to create a wedding flipbook
You can download a free version of a digital flipbook into a WordPress theme or straight to your computer. Furthermore, they are so easy to use you don't need a great deal of technical know-how.
In actual fact, they are no more difficult that creating a Word document or PDF file – precisely because you create Word document and convert it into PDF file. Then you convert the PDF to a flipbook.
If you don't already know, here's how to convert a Word document to PDF.
Create new folder:
The process of creating a flipbook will depend which software you choose, but most follow the same principles. You open the flipbook software, click start and select create new folder.
Select theme:
When you create a new folder you are offered a selection of themes and templates to choose from. They are pretty cool, so it might take you a while to browse through and choose the one you like the most.
Design settings:
Most flipbooks either let you choose pre-programmed design settings or you can upload your own.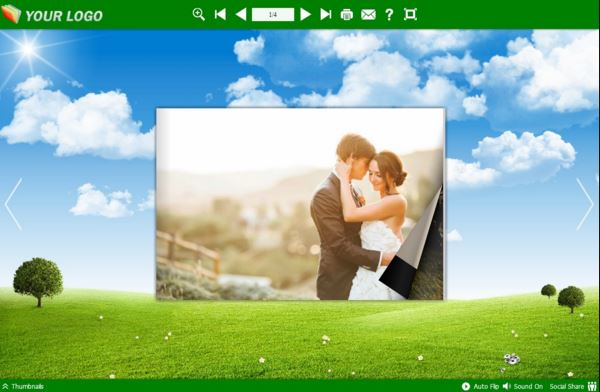 When making a flipbook wedding album you upload all the images and videos you want to include and arrange them how you like. If you have already done this in a PDF document, just upload the PDF.
Publish Flipbook
Once you have loaded all the content you want to include in your wedding flipbook, the final and most exciting step is to publish your end product and share it with your friends and family on social media.
And that's it! Didn't we tell you publishing a digital flipbook of your wedding memories is easy!